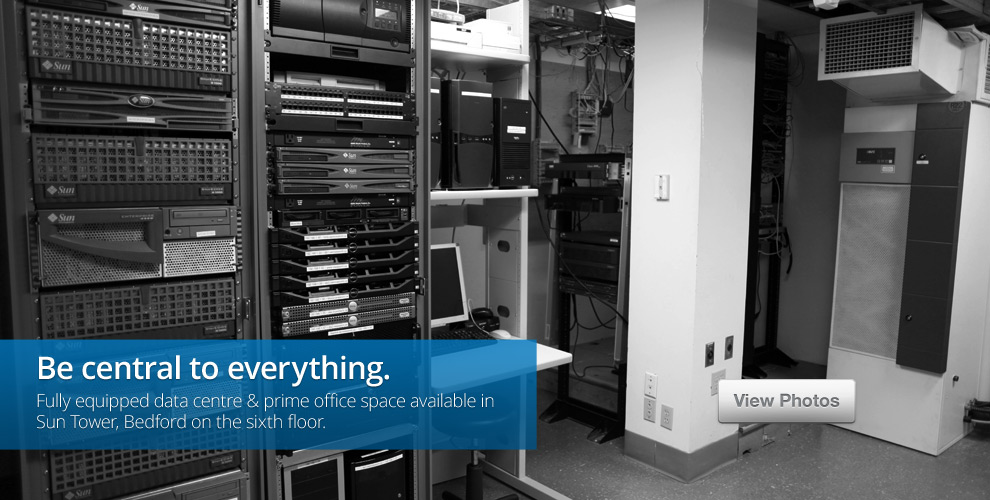 ServicePoint operates a fully functional data centre located in Bedford, Nova Scotia, approximately 15km from Halifax.
Located at the intersection of the Bedford Highway and Dartmouth Roads (provincial routes 2 & 7), it is well-situated for direct fibre-optic access from multiple carriers.
ServicePoint offers rack space to local business interested in placing their equipment in a secure local environment where their own staff can gain access as required.
This service was launched in response to a lack of co-location options in the local area, and is not designed to compete with firms offering "managed services".
Network access is in place from both Bell Aliant and Eastlink, with two other carriers also in the building. The access is pure fibre right into the centre, with UPS-powered fibre terminating equipment.
Bottom line - no power, no problem.
Our rates are very simple - $100 per "U" per month (there are 42 "U's" to a rack), with volume discounts available. This includes the rack space, power (including UPS and generator backup), 24 hour secure access, and access to the loading / staging area. Bandwidth can be contracted directly with any of four network suppliers or provided by ServicePoint (by aggregating requirements we can secure better rates at lower volumes).
In addition to data centre space, ServicePoint offers space for customers who wish to locate employees on site, either temporarily or permanently. Click here for information on our office space.
Data Centre Specifications
Area: 525 sq. ft.
Network Connectivity: Fibre from Aliant and Eastlink
Equipment Capacity: 16 racks, 672 units
Air Conditioning: 6 tons
Fire Suppression: Intergen
Generator: Kohler Diesel 60kVA
UPS/Power Conditioner: Powerware 36kVA
Battery Capacity: 30 minutes